General Program Information
Is Mindsed accredited?
Mindsed is not yet accredited. However, we are currently working with institutions to get accredited.
When does my course start and end?
On demand courses start the moment you have purchased the course. All other courses start on the date highlighted on the webpage. Once enrolled for the course you will receive your joining instructions, including the start and end date of the program.
What is the dress code for a face-to-face course?
We encourage all of our participants to dress in smart casual when attending one of our face-to-face courses.
How can I get in contact with my facilitator?
We are not able to provide the contact details of our facilitators online. In case you have any questions regarding your online or face-to-face course you can post a message on the discussion board which is made available to all course participants at the moment of enrollment. Simply log in to your learning portal, navigate to the course page and open the discussion board at the beginning of the course.
What is the cancellation policy for attending a Mindsed course?
You can cancel your enrollment for an online course, face-to-face course or webinar up to seven (7) business days prior to the first day of the course. On demand courses are excluded from enrollment cancelations. Please check our refund policy under the Payment & Billing category for more information.
When can I expect to receive my certificate?
All successful participants who have attended one of our certification courses receive their certificates within seven (7) business days after the last day of their attended course. Certificates will be sent via email. In case you haven't received your certificate within the first seven business days after your last training day please reach out to us via tellus@mindsed.com.
What is the value of Mindsed certificates?
Mindsed offers certificates for some of their courses. All issued certificates have a trackable reference number and can be verified with a single click. Employers worldwide are able to find and confirm your credential validity.
How can I assess my knowledge level?
Mindsed offers all learning professionals to go through a learning questionnaire which helps them to understand in which areas they have a need for development. The result from the questionnaire will then be sent to the respondent's email address.
What are Mindsed's learning pathways?
Mindsed offers learning pathways supporting learning professionals to develop in various areas beyond individual courses in the following categories:
Learning Experience Fundamentals
Video & Audio
Learning Graphics
Digital Learning Management
eLearning
Learning Management System
VR & AR
How can I remove myself from the mailing list?
Simply click on the unsubscribe link on the bottom of your newsletter and follow the steps.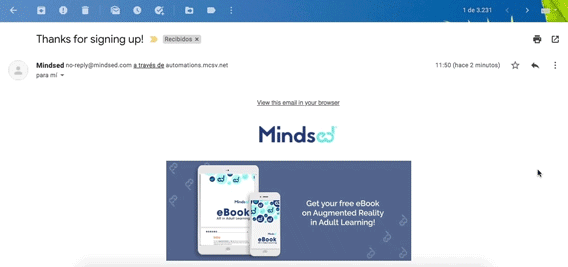 How can I change the language of the Mindsed webpage?
Navigate to the bottom right corner of the Mindsed homepage and select one of the offered languages. The web page is currently available in English, Spanish, German, Swedish, French and Arab.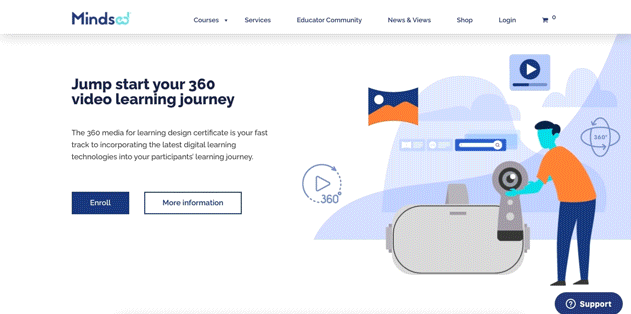 What is the best way to ask questions?
Write us an email to tellus@mindsed.com. We aim to reply all emails within two business days.