Do you offer any discounts?
Mindsed offers a group discount when three or more participants from one organization register for the same course at the same time and pay for it together or via one single invoice.
Groups are eligible for a 15% discount per participant. Simply get in contact with our team by filling out our contact form or by sending us an email to tellus@mindsed.com
If you have a larger group of learning professionals that you would like to send to one of our trainings, why don't you think about bringing our course or workshop into your organization? Check out our enterprise solutions page for more information.
Do you offer payment plans?
For all our courses we offer convenient payment plans ranging from one time to three months installment plans. For further details simply scroll to the bottom of the course page.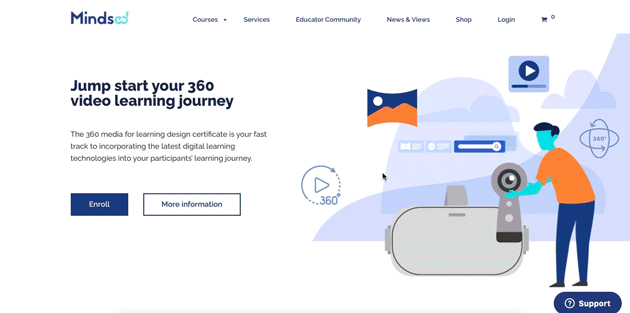 Can I use PayPal?
We do offer PayPal for one time payments but are unable to accept PayPal payments for our installment plans.
What payment methods do you offer?
Besides PayPal, we accept payments via VISA, Mastercard, American Express, Discover, JCB and Union Pay. For course payments made with these cards, participants can choose to pay the whole course fee or to select our installment plan.
Which currencies do you accept?
We use Stripe as our payment provider, thus we are able to accept payments made in more than 135 different currencies. Click here to check if you can pay in your own currency.
How does shipping of my material work?
Once registered for a course including a learning package, you will receive an email asking you for your mailing address where we can send the package.
What are the requirements for a purchase order?
There is no minimum amount for a purchase order. All first-time customers are required to make advance payment for their orders. All purchase orders must be signed, on company letterhead, and contain the order total to be considered complete.
Is it safe to pay online with my credit card?
We use Stripe as our payment provider to provide all our participants with a safe and secure payment gateway. Stripe is used by many well-known brands such as Lyft, Grab and Target.
How can I receive a receipt for my payment?
Please get in contact with us by sending us an email at tellus@mindsed.com requesting for a receipt for your payment, your name and the course you have purchased and we will send you a receipt to your email address.
Do you give refunds?
Yes, we do provide refunds for workshops and online courses when the request for refund is made no later than seven (7) business days prior to the first day of the training. You are entitled to receive a full refund with a 100 Euro deduction for administrative fees. Get in contact with us via email at tellus@mindsed.com.